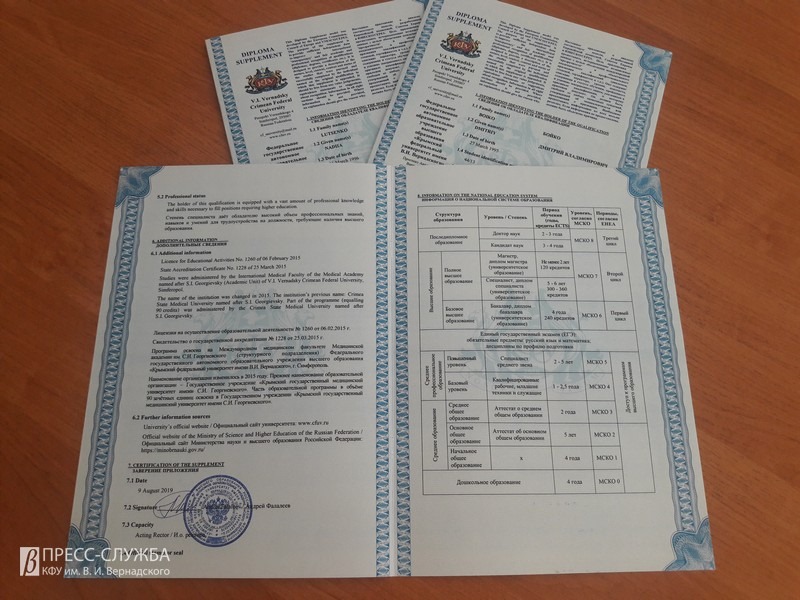 V.I. Vernadsky Crimean Federal University now issues Diploma Supplements to its graduates.
The Diploma Supplement is a uniform European document which helps education providers and employers abroad more easily understand graduates' skills and competences.
The Diploma Supplement produced by V.I. Vernadsky Crimean Federal University follows a template developed jointly by the European Commission, the Council of Europe and UNESCO. The purpose of the supplement is to provide sufficient independent data to improve the international "transparency" and fair academic and professional recognition of qualifications (diplomas, degrees, certificates, etc.) It is designed to provide a description of the nature, level, context, content and status of the studies that were pursued and successfully completed by the individual named on the original qualification to which the supplement is appended. It should be free from any value-judgements, equivalence statements or suggestions about recognition.
The Diploma Supplement is available to all Vernadsky CFU graduates, both domestic and international, from 2014 onwards.
It is a document issued in English and Russian which provides information identifying the holder of the qualification, the qualification and its level and function, the programme contents and achieved results, the national education system under which it was issued, and other relevant information.
The document provides graduates with broader study opportunities in other countries and increases their employability prospects.
The Diploma Supplement fee is RUB 2,745.
Find out more about the documents required to obtain a Diploma Supplement.